The 5 Municipalities of the appellation's area

Châteauneuf-du-Pape, the heart of the appellation

A document dated 1094 shows that 'Castrum Novum', literally translated 'new castle', belonged to the bishop of Avignon. Castrum actually means 'fortified town', rather than 'castle'. In 1146, Geoffrey Béranger, Viscount of Avignon, stated in a document to the bishop of Avignon that the Castrum Novum was built by one of his family. From this and other sources it is understood that a fortified village was built at the site of the castle in Châteauneuf between 1040 and 1073.
Courthézon, médiéval town

The history of the village dates back to the Neolithic era, or 6000 BC! Thus, one of the oldest peasants villages in Europe. Since its inception, at least sixteen names have been awarded including "Curtis Dunum" which means "village on the hill." Poets prefer his reference to love the Middle Ages Course: Provencal a "courtesoun" is a squire.
Sorgue, dynamic town

In the eleventh century, the city was called Pons Sorgie or « Bridge Sorghum » due to a small stone bridge over the river Sorgue and allowing access to the city. The installation of the papacy to Avignon in the fourteenth century involved the development of the village with a fabulous heritage. The city has retained traces of its prestigious past.
Bédarrides, daughter of the Emperor

The name Bédarrides changes over the centuries and related to Bisturritae, in Latin. It refers to the two towers built on the territory after the Roman victory over the Savoyards at the Battle of Vindalium in 120 BC. Property of the Emperor Louis the Blind, he donated it to Bishop Remi in 912. Consequently, the archbishops of Avignon were spiritual and temporal lords of the city and its soil until 1791, when the Comtat Venaissin County was annexed to France.
Orange, Roman city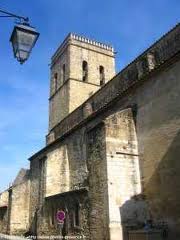 Previous Celtic settlements existed in and around Orange. A major battle, which is known as the Battle of Arausio, was fought in 105 BC between two Roman armies and the Cimbri and Teutones tribes. Orange was the capital of a wide area of northern Provence, which was parceled up into lots for the Roman colonists. During the Roman Empire, 120 BC to AD 476, the village farms, and large rural holdings increased.