The vineyards through the ages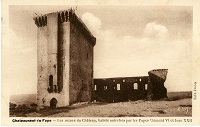 The popes who, when installed in Avignon in the fourteenth century, revealed the terroir of Châteauneuf-du-Pape. Under the reign of John XXII, the village becomes the summer residence of the papacy. As for the precious nectar produced in this area, he granted the wine to the rank of "Vin du Pape", opening the doors of the great European courts.
A flourishing trade

Visionary in many ways, winemakers of Chateauneuf-du-Pape already ship from the late eighteenth century their wine bottles instead of using barrels. An important new step obtaining brand awareness, all over the world.
The conquest of the name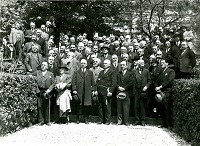 Anxious to defend the wines of Châteauneuf-du-Pape growing reputation, the winemakers will be at the origin of the current system of AOC. Judging the 1919 Act on designations of origin too general - it only defines the naming areas - They decide it is time to put in place stricter regulations to protect their wines.
An exclusive and iconic bottle
In 1937, the union of the owners of the appellation of Châteauneuf-du-Pape, then chaired by Baron Pierre Le Roy Boiseaumarié, actually created an original bottle: the famous bottle with the embossed logo.