Sorgue, dynamic town
In the eleventh century, the city was called Pons Sorgie or « Bridge Sorghum » due to a small stone bridge over the river Sorgue and allowing access to the city. The installation of the papacy to Avignon in the fourteenth century involved the development of the village with a fabulous heritage. The city has retained traces of its prestigious past.
The Inheritance
*The house known as Queen Jeanne (fourteenth century) was listed as a historical monument in 1989. Private property.
*The St. Sixtus church dated from 1770.
*The Bridge Arméniers (XX s), listed as a historical monument in 2001.*The Brantes Castle and Garden (1700). Court gate and roof are listed as historical monuments. The garden has the label "Remarkable Garden" provided by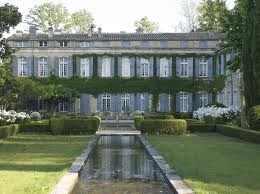 the Ministry of Culture.
*The Monastery of the Visitation Ste Marie (XX s): Shrine of Ste Maxime.
*The Castle St Hubert (eighteenth century).
*The Castle Gentilly fourteenth century.
*The Monument Train Fantôme
*The Island of Oiselay. Located between the Rhône and l'Ouvèze, this oasis of greenery is the gathering place for fishing enthusiasts and nature walkers.