the thirteen grape varieties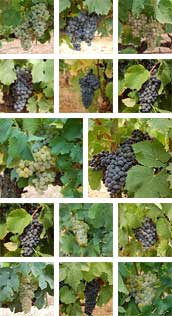 When Châteauneuf-du-Pape became the first French appellation contrôlée wine in 1936, 13 different grape varieties were authorized each contributing its characteristics to: color, structure, fragrance, freshness and longevity.
The permitted red and white grape varities are: Grenache, Syrah, Mourvèdre, Cinsault, Clairette, vaccarèse, Bourboulenc, Roussanne, Counoise, Muscardin, Picpoul, Picardan and Terret noir.
These diverse varieties came from careful selection by generations of winemakers who, for the most part, gave priority to quality. One of them, Joseph Ducos (a prominent local winegrower who was highly respected by Baron le Roy), played an important role in replanting the Châteauneuf-du-Pape vineyards after phylloxera struck in the late 19th century. Owner of La Nerthe and worthy successor of the Marquis Tulle de Villefranche, Ducos undertook an in-depth study of various grape varieties and carried out extensive experiments in his own vineyard, growing ten different varieties chosen according to quality and balance.
Grenache Noir, the main grape variety, and Châteauneuf-du-Pape are a perfect marriage because of the region's meager dry soils, hot summers with severe, long periods of drought, and mistral which protects against coulure (shot berries) and vine diseases. Grenache contributes warmth and strength and typically display a wide spectrum of flavors while the other grape varieties like Syrah, Cinsault and Mourvèdre achieve balance.