The vineyards through the ages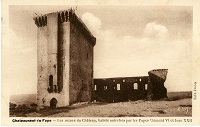 The popes who, when installed in Avignon in the fourteenth century, revealed the terroir of Châteauneuf-du-Pape. Under the reign of John XXII, the village becomes the summer residence of the papacy. As for the precious nectar produced in this area, he granted the wine to the rank of "Vin du Pape", opening the doors of the great European courts.
Already in Gallo-Roman times, vines covered quite likely the territory of Châteauneuf-du-Pape. However, the first written evidence of its existence dates from 1157. In keeping with local tradition, and planting himself, Geoffroy, bishop of Avignon, had a vineyard within the territory of Châteauneuf-du-Pape. But the popes from of the fourteenth century were the real promoters of the winegrowing business of the place.
In 1314, Clement V, the first Avignon Pope discovers the special soil of Châteauneuf-du-Pape. His successor, John XXII supports him and it was during his reign that the vineyard really takes off and spreads fame beyond the borders of "The Comtat".
The former bishop of Avignon, Jacques Duèse was elected as Pope John XII and succeeded Clement V in 1316. He regularly drank the wines from the vineyards 'in the north' and did much to improve viticulture practices there.
The pope sought a place sufficiently far from the city to discourage courtiers, sycophants, and scroungers, yet close enough so that a courier could go there and back to Avignon on the same day. The ideal spot was found on a hillock overlooking the Rhône Valley about halfway between Avignon and Orange – Châteauneuf – and this area was
placed directly under his authority.
He oversaw the total construction of the castle, which began in 1317, and was completed in 1333. Grapevines and olive trees were planted in the area. According to the archives of the Apostolic Chamber, the total number of grapevines at Châteauneuf was estimated to be more than three million in 1334. This represents 600 to 800 ha of vineyards. Under John XXII, the wines of this area Orders renewed each year until reaching over three thousand liters per year. During the festivities the wine was served to ambassadors and other representatives of foreign courts and soon afterwards even shipped in barrels to Italy, Germany and Britain.