The winemaking
Traditionally in Chateauneuf-du-Pape, the wine is vinified in concrete tanks. From the 80s, many winemakers have opted for stainless steel tanks that are more hygienic, easy to clean, support better temperature control and are technically more efficient. However, recently some winemakers installed again concrete tanks with considerable improvements. The inside walls are now coated for easy cleaning and because of their thickness they offer a good thermal regulation.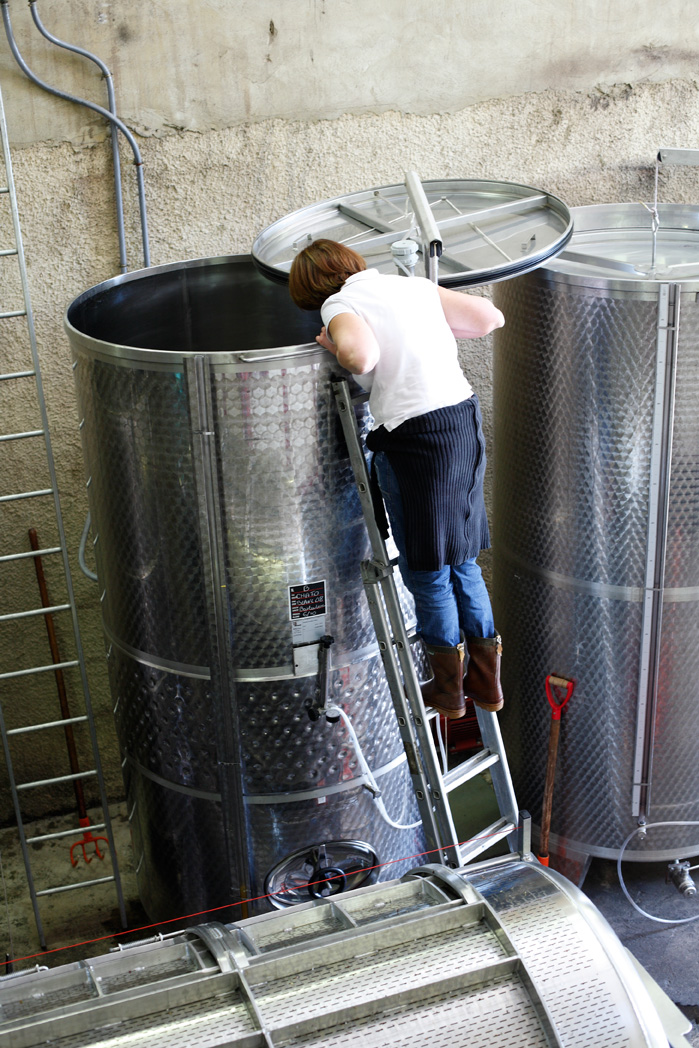 For the vinification of the grapes in the tank there are two options to growers. The first is to mix several varieties within the same tank, also called co-fermentation. The second is to vinify the grapes separately to keep their main characteristics intact and then assemble later.
Another trend in winemaking is the use of tapered wooden vats. Their base is wider than the top so the cap is captured achieving better maceration. Another advantage of these vats is they produce wines with tannins and oak aromas, gaining flexibility and complexity. Like concrete, wood has thermal and inert qualities. Finally, these tanks are also used for aging wine. In the cellars, the alignment of the vats creates a prestigious atmosphere.
The grapes, whose skins are covered with indigenous yeast, are then put into fermentation vats (concrete, oak, or stainless steel). The yeast converts the natural grape sugar into alcohol and carbon dioxide gas, which dissipates into the atmosphere. The juice, now called "must," ferments at controlled temperatures (26-33 ºC) for 1 to 4 weeks (depending on the profile of the wine) until all the sugar has been converted.
After macération, the vin de goutte, or free run juice (about 80% of the final volume), is run off into barrel or transferred to another vat or tank. The solid matter is then removed and pressed. The resulting press wine is blended with the free run juice or kept separate depending on the quality. Triggered by lactic acid bacteria, malolactic fermentation begins shortly thereafter. This transforms malic acid into lactic acid, which increases the pH and softens the wine.
The red wine is then aged in vat (stainless steel, epoxy, or concrete) or oak (foudres, and/or different-sized oak barrels) – please see information for each estate. During this period, racking may be done one or more times. Prior to bottling (or earlier in some instances), the wine is blended, fined, and/or filtered if the winemaker so wishes. Once bottled it is, ideally, stored for 1 to 12 months to stabilize before labeling and shipment.
As for white Châteauneuf, the grapes are generally pressed as soon as they arrive at the winery and fermented more slowly than the red wines, and at a lower temperature (12-20ºC). This can take place in stainless steel vats or oak barrels. Aging is usually short (3-6 months), and sometimes wines from different grape varieties are aged separately in either vats or barrels on their lees. Malolactic fermentation is normally blocked to preserve freshness.